Practical issues

For playback of multimedia contents you require the popular QuickTime Player plugin which most browsers already have. (Kindly ask the webmaster in charge if a computer accessible to the public does not have it yet.)
Loading time

Loading a QuickTime video takes some time depending on its duration, the speed of your connection and current server load.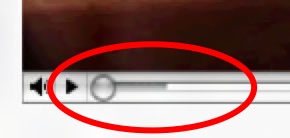 The bar of the QuickTime player indidates the progress of loading a video. Please wait for the grey progress bar to cover the entire width of the player for uninterrupted viewing. After the automatic loading in your computer's cache is completed the video can be played back repeatedly without further delay.
Video and slide show versions

Two types of QuickTime contents are being offered on this sites for your convenience:
(1) One version for older QuickTime Player versions in a smaller screen format (works on almost all Mac and Windows computers);
(2) The new QuickTime 7 Player (available only for computers having Windows XP und Mac OS X operating systems); this offers both a larger picture and quick loading contents.
QuickTime software for free

If your computer is not yet equipped with the QuickTime Player you cannot view this website's multimedia contents. It is possible to download the QuickTime Player 7 straight from the Apple Website. An installation of the QuickTime Player just takes a few minutes. Two plugin versions are available depending on the operating system of your computer:

A note for site visitors having a QuickTime 6 Pro licence

If you upgrade your computer from QuickTime Player 6 to QuickTime Player 7 you also need a new QuickTime Pro license. (Only then you are able to also edit QuickTime movies!) If you wish to continue working with your paid for QuickTime Pro 6 Pro license you are therefore adviced against upgrading to version 7.